The designer of any foldable bicycle is primarily concerned with making the vehicle more compact when folded so that it can be easily transported and stored. Buddy is a designer from China. After fully considering the above needs, he brought the Highwing Bike, which lasted five years, to the public in 2017. Buddy claims this Highwing Bike is the most compact folded bike in the world today.
The Highwing Bike looks simple and elegant. In order to achieve the best folding effect, this bike uses many patented elements in the design process. The main one is that it uses a special folder, which makes the bike have a very good folding ability. In addition, the inline frame like a pole also provides more folding space for the bike.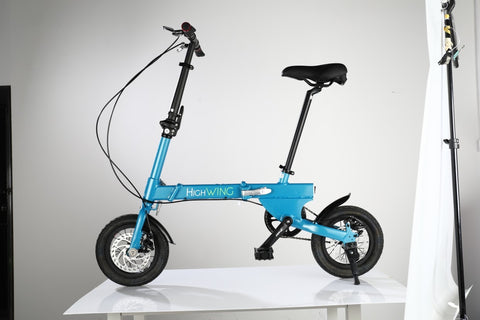 The frame design of Highwing Bike is made of aluminum alloy, which is more durable than ordinary steel frame bikes. The maximum weight that this bike can carry is 100kg.
The Highwing Bike can easily reach a speed of 25 kilometers per hour, and the pedals can drive the body forward 4.5 meters in one revolution. This is only a single-speed version. Currently, Buddy is working on another upgraded model with two to six gears. The distance driven by each revolution of the pedal can reach 7.5 meters.
The classic version of the Highwing Bike has a tire diameter of 12 inches and a folded size of 70x30x30 cm, which is small enough to fit in a hand luggage and carry to a plane. The main body of the body is made of aluminum, and Buddy hopes that the bike can be reduced from 11kg to 8kg in a later revision upgrade.